Property sector business sustainability strategies must look to the long game
The COVID-19 pandemic has challenged economic stability globally; it has forced change and required a new level of business agility. In short, the survival of small and large businesses alike was front and centre of all economic growth conversations.

The South African listed property sector was no exception, being particularly hard hit as the response to the pandemic wreaked havoc on property fundamentals and blurred the usually clearer line of sight on valuations and returns that the sector historically enjoyed. This was compounded by the economic pressures already felt in prior years.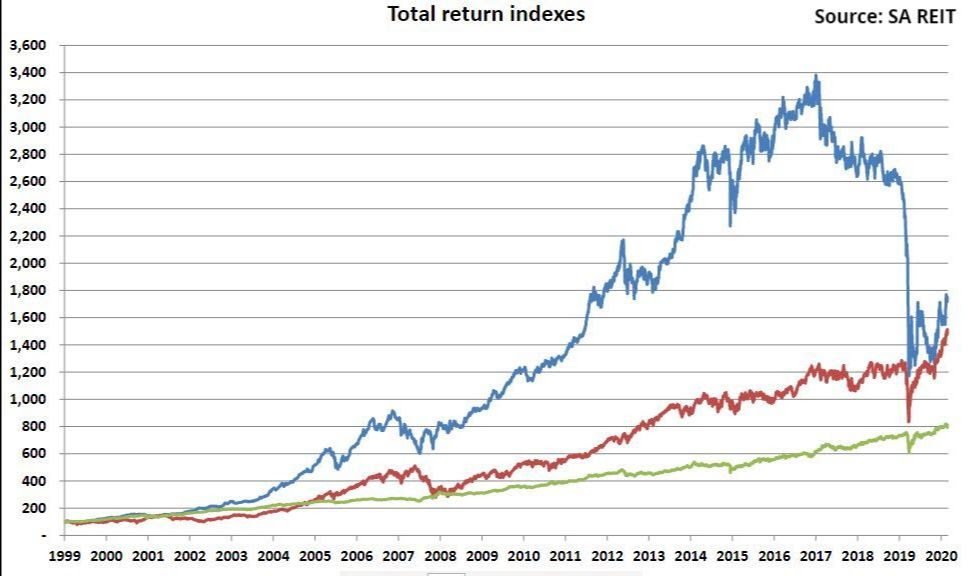 The sector, which saw a massive derating in 2018 following allegations of 'financial engineering' to inflate earnings, found itself once again under significant pressure in 2020 as investors drove down equity valuations and pushed companies to reduce their debt profile.
Who is leading the charge?
The argument from real estate experts is that there is value in the sector, especially at the current valuations. But quality of leadership plays a key role in which counters are worthy of selection. Committed investors understand that property is a long term and cyclical game, and it appears that the old short-termism seen in the sector has dissipated in the wake of COVID-19 – at least for the medium term.

To ride through the current cycle, real estate investment trusts (REITs) need to maintain a long-term approach and deploy innovative property and asset management initiatives to
avoid knee jerk reactions that will be detrimental to their portfolios' long-term potential.
Increasingly too, boards must now ensure that they play an active role in driving meaningful sustainability strategies that underpin the company's investment case for all stakeholders.
 Changing of the guard on the cards?
Looking at the boards of the leading REITs, it is clear that in the main, financial skills vastly outweigh pure property skills. Since the advent of the REIT structure and flurry of offshore ventures, financially adept individuals have served the sector well by taking advantage of the gap between yields and funding costs, or developing creative deal/debt structures to satisfy investor appetite for growth in distributions.

Now, as many equity investors feel that REITs are tipping the acceptable gearing scale (in sector terms) due to rental growth and valuation pressure, the balance of property-led leadership skills at board level would certainly benefit from a review.

Balancing financial and property specialist skills throughout the organisation is essential to know best how to manage a portfolio optimally, ensure effective stakeholder engagement, as well as prudent capital allocation to deliver sustainable growth and returns.
People, planet, and profits aligned
Today, growth and return on investment (ROI) metrics are no longer sufficient to realise full valuation potential. Companies are increasingly being assessed on their Environmental, Social and Governance (ESG) stewardship and how this feeds into their investment case. A clear example of this is the growing signatory base of The Principles for Responsible Investment (PRI), representing over 3000 investors who collaboratively account for US$100 trillion in assets under management as at April 2020.
We are also seeing an increased demand from institutional investors for new methods and measures to assess a company's sustainability.  They require a solution that can be benchmarked and tracked over time taking into account the revival of the notion of 'stakeholder capitalism'.

Professor Klaus Schwab, Founder and Executive Chairman of the World Economic Forum describes this as "a form of capitalism in which companies do not only optimise short-term profits for shareholders, but seek long term value creation, by taking into account the needs of all their stakeholders, and society at large".
With this in mind, Professor Schwab et al. have proposed a new global stakeholder model where the wellbeing of people and planet are at the centre.
And so, there should also be an emphasis on skills related to 'people and planet' in the boardroom. Tackling the social and economic divide is nothing new to South Africa, but these deep-seated issues have been acutely emphasised given COVID-19's impact on lives and livelihoods. Environmental management proficiencies too are becoming increasingly imperative as global treaties crack down on emissions, biodiversity impacts, resource stewardship, workplace conditions and the like.
A journey worth taking
Skills are scarce and reward mechanisms need to be appropriately structured to not only attract and retain the right balance of talent, but also to incentivise the desired behaviour by aligning targets to sustainability strategies.

This begins with building an implementable sustainability strategy that goes beyond mere reporting requirements. It must be tailored for the prevailing business environment to be effective in the long term, and based on clear processes to measure success, report on progress, and make required adjustments considering all inherent risks and opportunities that sectors such as real estate offer.